Secret Dinners : "Kings Banquet" Classics vs Afro Fusion
Foodies! It is that time of the month and Secret Dinners has returned for another edition , this time with the theme " The Kings Banquet: Classics vs. Afro Fusion". An exciting collaboration between the renowned 'Emmanuel's' Restaurant at Bronte Hotel and Food n Co. The Secret Dinner is set to take place on 23 September and as usual the menu is a secret!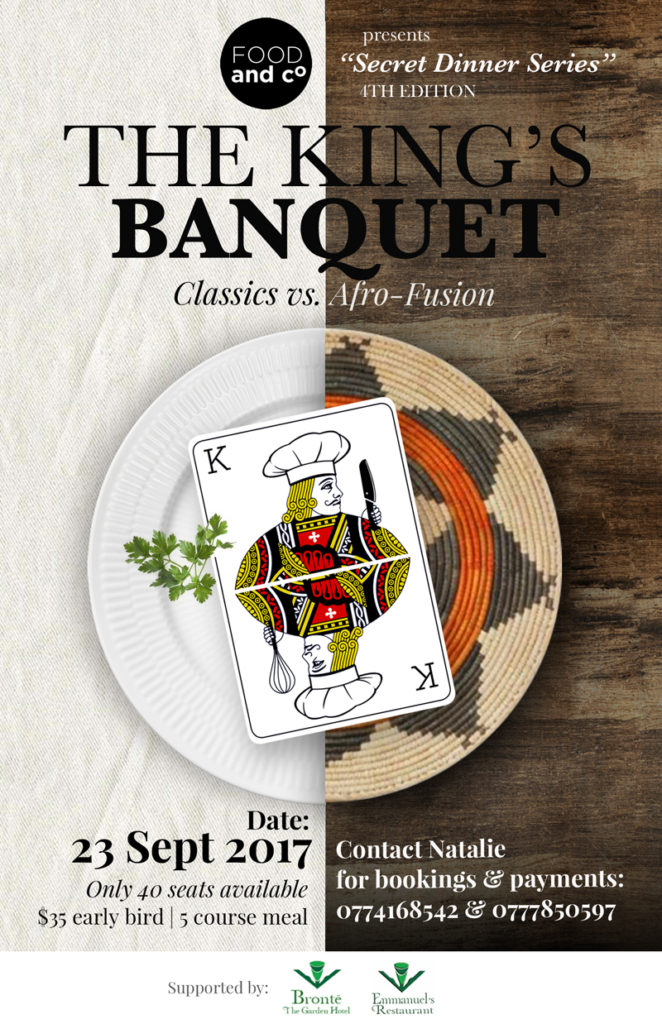 The food collaboration is a partnership celebrating the new breed of creative chefs in Zimbabwe. The dinner will fuse both international and local culinary skills. The theme draws from traditional dining experiences both from the western world and the exciting new dinning experience in Zimbabwe. The Chefs for the night are the renowned Chef Hyde representing Emmanuel's (he also trained the famous Jamie Oliver) and Battle of the Chef season 1 winner DeAnkarra Chef known for his Afro-fusion dishes.
With a 5-course meal planned filled with modern twists and classic elements. The Chefs will also be using local ingredients in the kitchen and this is sure to add proudly Zimbabwean feel to the night. Diners will have the opportunity to interact with the chefs during intervals before or after the courses. The night will be filled with exciting challenges for the chefs which will certainly prove to be quite the tasty and enjoyable experience for foodies.
Another exciting addition to the night is that Cape Town based sommelier to top restaurant The Test Kitchen, Tinashe Nyamudoka has specially curated a wine list for the event. For the wine appreciator that is definitely a highlight.
Be sure to get your tickets for a food experience fit for a king. A night with Harare's top chefs and with a 5-course meal planned using both classic and Afro fusion elements for just $35. Let us not forget the wine list prepared by the renowned Tinashe Nyamudoka.
Bookings and payments:
Contact Natalie or Itayi on 0774168542 or 0777850597. The available payment facilities are Ecocash, EFT/ RTGS or Cash. No payments will be accepted on the day. Limited swipe machine payment facilities available prior to the dinner.