It was just a few weeks ago, that I shared the exciting news that Zimbabwean designer made history by being the first local based fashion designer to showcase at New York Fashion Week 2017 (NYFW).
After making his debut on one of the most renowned international fashion runways. I managed to catch up with David as we talk New York, Fashion and the future. More importantly, he shares the fascinating design process and craftsmanship behind his collection, "On the Precipice"
What was the NYFW experience especially as a Zimbabwean designer?
DA: New York Fashion Week was an amazing experience and perhaps one of the most relaxed and organised shows we have ever done. Technical and backstage crews were extremely professional and organised. I am definitely hoping to have New York as part of our annual calendar.
How was the audience reception to your collection?
DA: To my surprise and delight,  the collection was received very well especially as it was our first outing in New York. With each piece receiving applause as it went out on the Runway, something I personally could not hear backstage. One thing I don't like about Runway shows is the fact you see and hear practically nothing from backstage during a show.
What did you take away from NYFW that we can bring to our local industry?
DA: Our Runway setup in New York was very simple and clean, to my delight, everything was organised and ran without any glitches. I think perhaps as an industry in Zimbabwe we need to realise that there is more available to us than it initially seems, sometimes simple and polished is easier to achieve than we think. For our show in New York, we did not use a Runway/ stage, something aesthetically I think looks more appealing in post-production media, and something I hope Zim Fashion events can take on board, perhaps making more use of relevant spaces in Harare such as Hotels, galleries etc.
What fabrics and textures did you use for the collection?
DA: This collection saw DAH take a complete 360 in our silhouette and techniques used such as print and embroidery. When working with print you have to be respectful of the print itself and understand how it will fall onto body, you cannot just cut and sew the fabric without understanding it. I was inspired by the death of the barrier reef and I wanted to use digital print but in a way, that removed any familiarisation between the print and the coral. I discovered a Japanese artist, Kaz Shirane, who has travelled the world creating vast rooms and exhibition spaces into giant prism kaleidoscopes. In each of his pieces large mirrored panels on walls and ceilings slowly move and rotate, reflecting the on lookers in all different directions, in theory the audience themselves are becoming the kaleidoscope. This idea fascinated me,  transforming the body into one kaleidoscopic image. So I took imagery of the coral from the reef and using software transformed the original image into kaleidoscopes, which gave the print an intricate, complex new life, retaining some of the original texture of the coral throughout the print.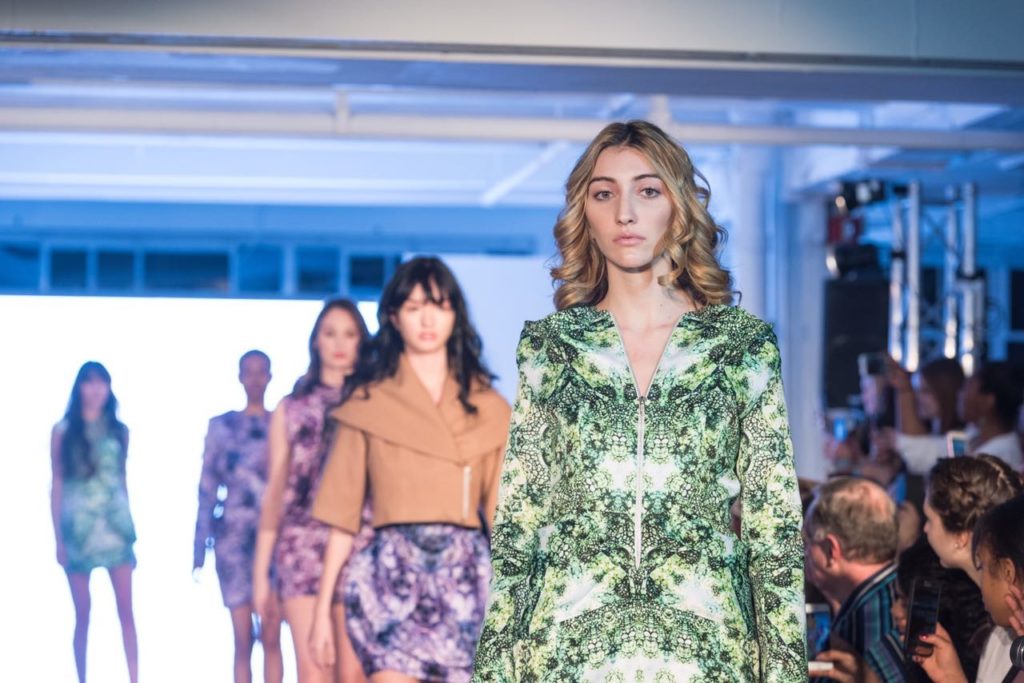 By draping and creating various styles of folds in the fabric we were able to make the same print appear different throughout the collection, using particular panels and areas of the print as the focal point. Obviously, this became a challenge to translate onto a garment as the points where seams matched had to appear as one continuous part of the print.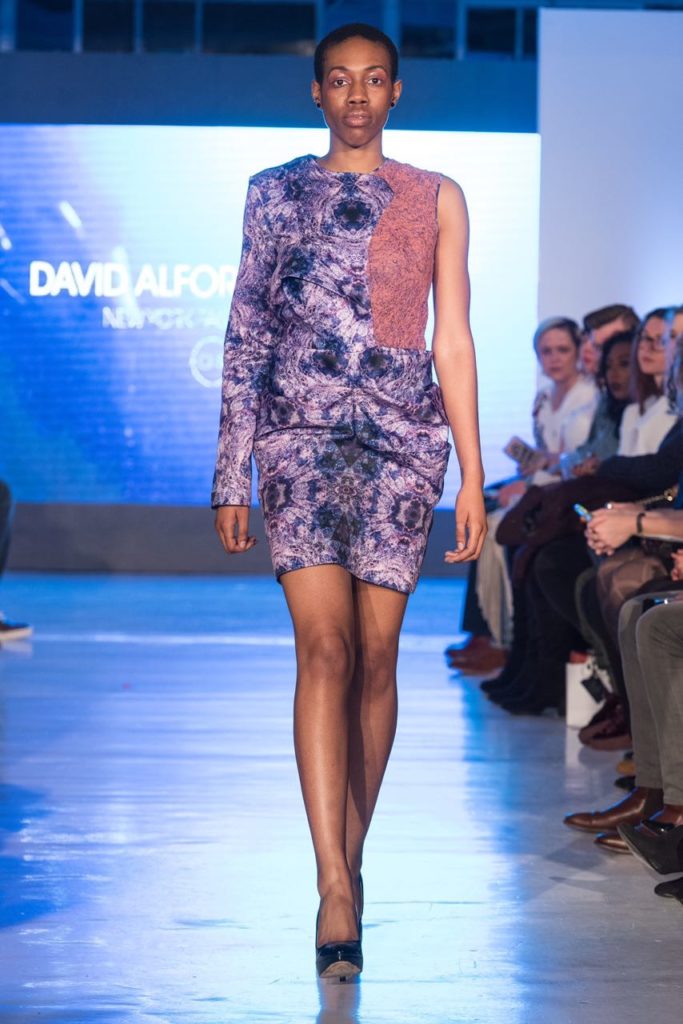 To resemble the dying effect of the coral we also created our own embroidery in house using water soluble fabric, a fabric that is typically used as a temporary support to the main fabric while it is being worked on, then it is simply dipped in water and the support vanishes to leave the finished embroidery on the fabric. We matched each colour in the prints to colours of thread and individually applied them directly onto the soluble fabric in a way that mimicked the density of colour in the print, starting with the most predominant colour then second, third, fourth and so on. Once the area of the soluble fabric had been covered in strands of thread we simply dissolved the pattern piece into water and were left with a tatty looking fabric comprised entirely of thread, therefore giving the effect the print was disintegrating off the body. Extremely time consuming, one panel on a dress can take anything from 8-10 hours to produce.
What is next for you?
DA: Our next stop sees us taking the collection to Mercedes Benz fashion Week in Cape Town. Something I am very much looking forward to.
It is pretty clear that David is not slowing down anytime soon. Be sure to catch the updates of his MBFW Cape Town on March 25th.
David Alford Harare AW  New York Fashion Week 2017 Video: