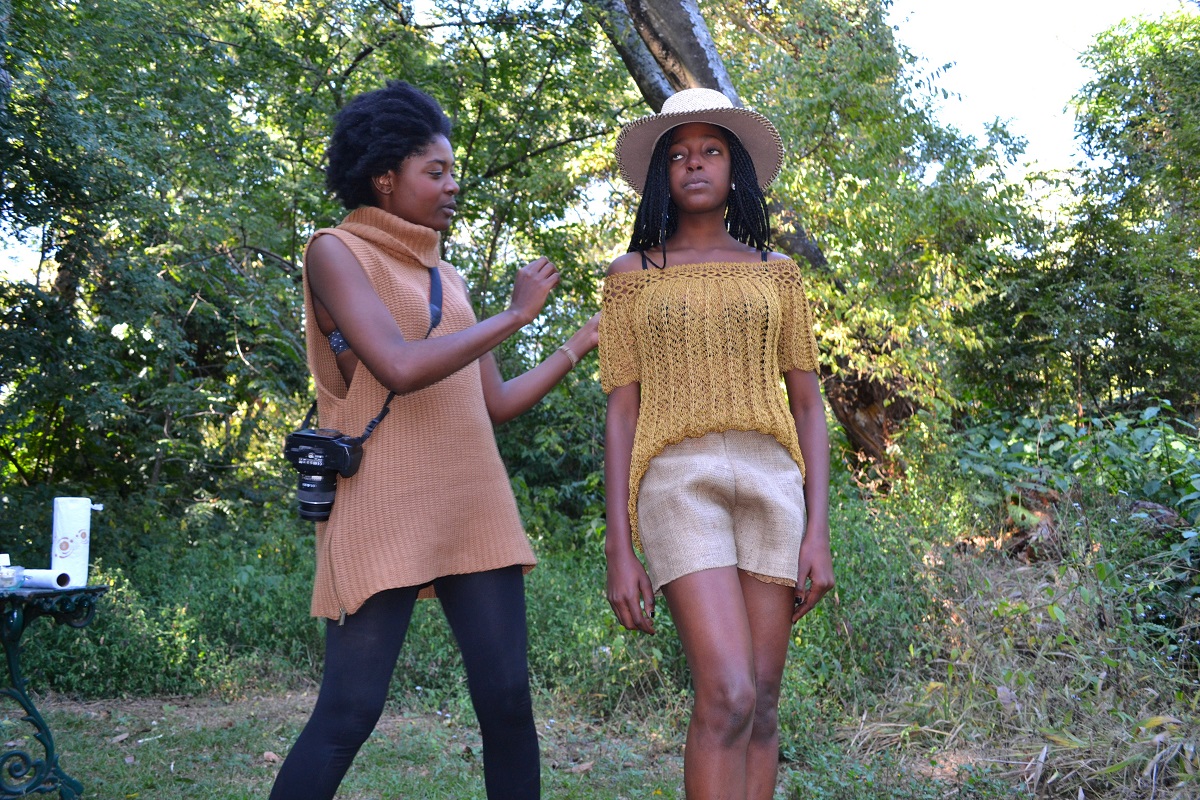 It can be said that "Aesthetics + Ethics = Sustainable Fashion" and that is exactly what the recent offering of NGUWO.inc's Eco Design Garden showcased. The eco-friendly event was hosted in the rainforest at the Harare Botanical Gardens which back in the day was known for its lush and green gardens. While the Botanical Gardens still open their gates, once inside their gardens except the rain forest are not as green as I once remembered.  The Botanical Gardens regardless provided an eco-friendly garden experience. Hidden under the tall trees and thick vines, an intimate space allowed for guests to mingle and enjoy sustainable/recycable fashion. Haleema Mekani of NGUWO.inc  showcased her green collection titled, "Eco Fashion Resort Capsule Collection".
Rainforest 
Eco Design Garden setup and Vegan treats
Making use of summer hats , shorts , dresses and tops from unconventional materials such a straw, crotched thread and even old household curtains. Haleema put together a collection that was not only recyclable but multifunctional. Allowing for one look to transform into a new design simply by tagging a thread.  The green collection added a new perspective to local fashion production encouraging the industry to follow purse more eco-friendly trendy looks. I was able to discuss this new green collection with Haleema. See below for our quick interview
Haleema Mekani of NGUWO.inc
Q:  What was your inspiration for the Eco Fashion Resort Capsule Collection?
A:  While I was researching about Eco friendly design methods I came across a young European lady who before sharing her opinion on eco fashion stated simply that Eco fashion in a sense doesn't solve the problem of fast fashion. It all ends up in the same landfill eco friendly or not. It was such a profound thought that I was challenged to create a collection that could be redesigned over and over and was made without buying a single thing.
Q: What materials did you use?
A: The majority of collection consists of locally sourced, locally grown cotton crotchet thread and twine designed using a single thread technique so that each piece can be taken apart to create a new garment. There is also recycled hessian (used to carry cotton), up-cycled lace as lining from an old skirt and up-cycled lace from curtains. The hats and bags are made from bamboo and straw. Everything is handmade and in order to ensure the quality of the pieces I engaged woman from different communities who specialize in weaving and crocheting using fair trade practices.
Q: Where will you be showcasing these designs?
A: This collection is going to be the fashion feature at Park Krowoderski for the Eco- Youth Laudato Si Festival being held in Kraków, Poland this July. The images and footage from the Eco garden is being presented in Germany in different capacities
Q: Future plans?
A: There are a few opportunities to expand the NGUWO.inc brand to Europe and this collection is a great way to start sharing African and most importantly Zimbabwean design techniques with the global fashion market.
For more on Haleema's Ecofriendly journey keep up to date  here