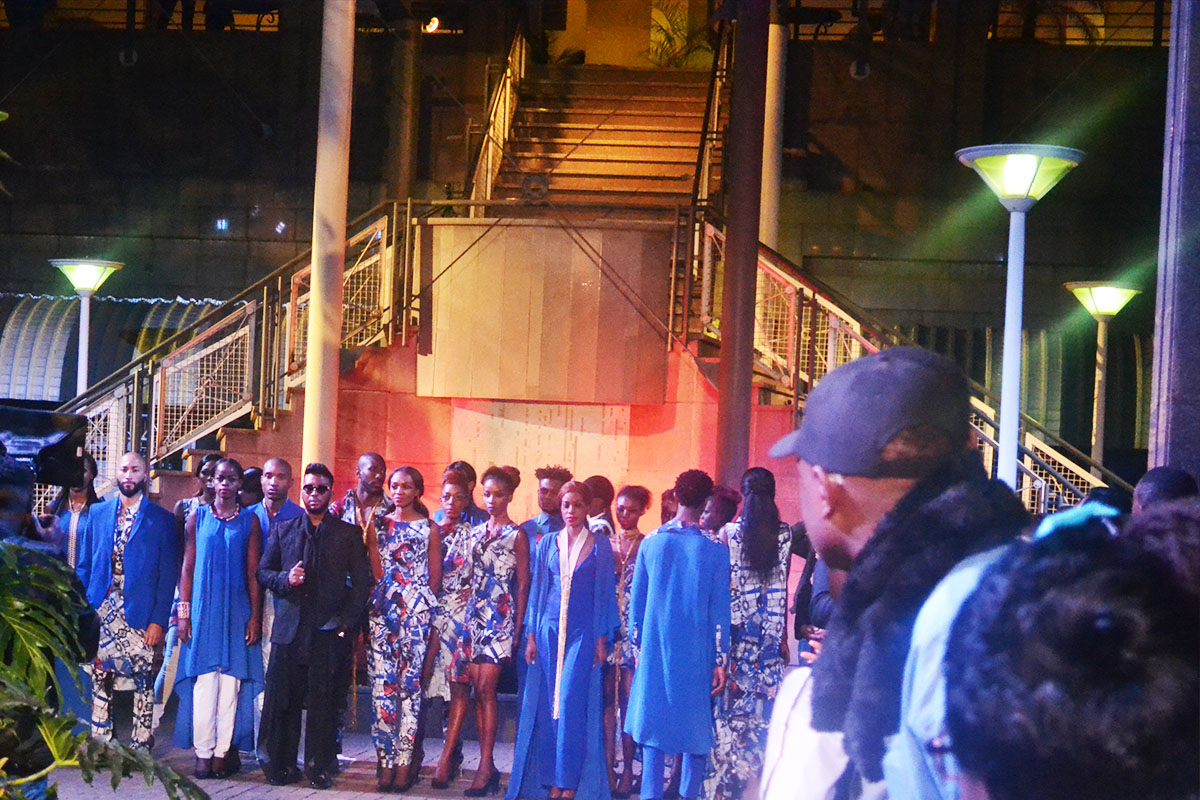 As we welcome Summer, Edgars said hello to the new season with a star-studded Fashion Extravangza event at Meikles hotel. With guests including local designers and entertainment personalities, the night of fashion included a memorable runway showcase and cocktail party in the heart of the city.
National Ballet of Zimbabwe entertains guests.
Wearing A Tapfumanei Munenge Creation
We started the night with welcome drinks and mingling at the beautiful Meikles Hotel surrounded by the lights and city buildings.  After some mingling, we headed down to the fashion runway in the adjacent shopping centre. What screams summer in the city more than models strutting  down one of the CBD's most iconic locations.
EDGARS SUMMER RANGE 2016
Welcomed by Edgar's management, the first showcase of the night was the Edgar's Summer range. The Edgars Summer collection was a mixture of casual and formal wear making use of iconic summer musts like denim. Trendy and stylish for the city!
DVJ range
After the Edgars Summer range showcase, the first designer winner from the local designer competition was  Heather Madhlabuta  who showcased her DVJ line. Making use of the fresh white fabrics and cool cuts, her collection is ideal for all body types with a sophisticated and hip feel .
Kai San  made use of fresh prints
DVJ was followed by Sekai Sandamu's Kai San line that made use of fresh prints and unique fabrics. A fusion of African and Far East themes,the range was  a fusion of f practical  and beautiful. From summer dresses to hip pant this collection was funky and perfect for the fashion lover looking for new prints used in exciting ways.
Urban Chic by K7
K7 by Kuda Chihungwa the last of the 3 local designer winners  showcased menswear perfect for summer outings especially afternoon activities. Casual wear for the trendy and hip guy.
Sophisticated and graceful by David Tlale
To end off the night, the king of African Fashion revealed his exclusive range for Edgars Zimbabwe. Inspired by African and tribal prints, david by David Tlale was everything sophisticated. His quality designs and perfect tailoring was a hit with guests who gave the designer a standing ovation. The powerful collection illustrated that while ready to wear can be worn on different occasions it certainly does not have to be boring. David brings elegance, power and sophistication to his pieces. His use of blue and  white with some hints of orange added a graceful, powerful and calm feel to his clothes for the confident and classy man and woman. I certainly was wowed and loved the showcase. He slayed!
Bryan K Performs his hit Heavy Machine
All in all it was a fabulous night and with performances by Bryan K and the National Ballet of Zimbabwe. This was certainly a high end fashion show and the collections showcased the potential of our local industry. Edgars investment in the local industry was certainly conveyed celebrating 75 years of being in Zimbabwe.  Discovering local talent and bringing international talent to Zimbabwe , in addition all the amazing looks showcased will be available at  3 Edgars stores, In Bulawayo , Sam Levy's and Sam Nujoma in Harare.
 It is safe to say, Summer in the City has arrived!
Video highlights