"An Afro- Fusion Tapas Showdown"
29 April 2017 @ 4:00 pm

-

8:00 pm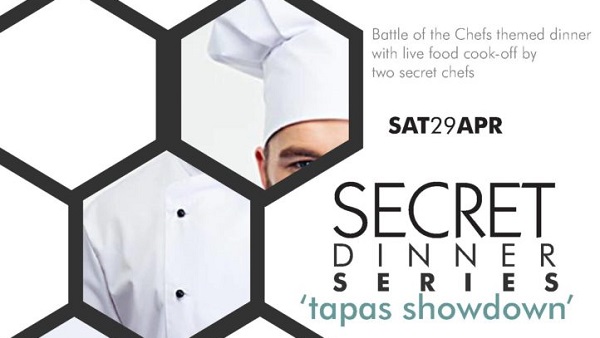 Now for those that know me, my favourite local Zimbabwean show is "Battle of the Chefs"! Naturally when I heard, Food and Co, Unplugged Zimbabwe and Battle of the Chefs were collaborating for the second edition of "Secret Dinners" , I was beyond excited. After the successful launch of Secret Dinners ( my review available here ), they are back with the theme, "Battle of the Chefs – An Afro-Fusion Tapas Showdown"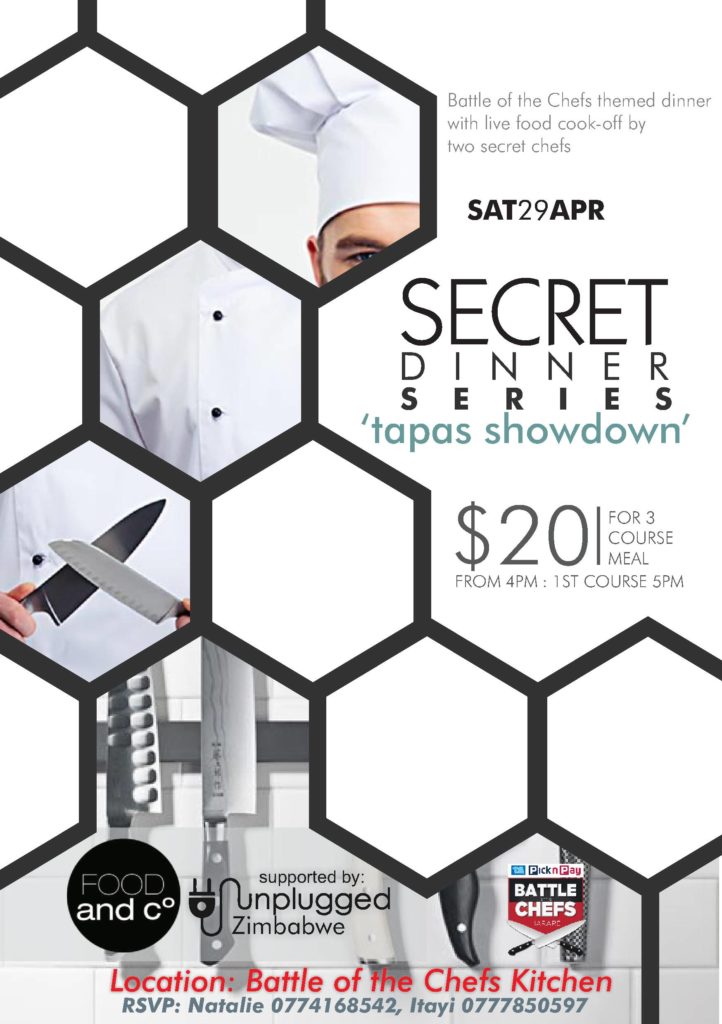 As usual, the details are secret and I have some exclusives from the key strategists of this food revolution. I am all about the details and the big reveal. The second edition of the exclusive and intimate Secret Dinners series is set to be filled with creativity and an impressive showmanship of talent . This follow up edition will focus on benchmarking the Spanish tradition of Tapas.  The second offering of the Secret Dinners edition will have a Zimbabwean take on tapas, with an "Afro-fusion" twist as 2 chefs have a live food battle at the secret location.
The Food and Co team exclusively shared, "We see this as an opportunity for Chefs to showcase their versatility and produce viable dishes whose credibility will be left to the audience to verify. Various cultures have adopted the Tapas method in order to interpret age old traditional dishes and fuse them with global culinary inspiration. We see this as the opportunity to interrupt how our indigenous ingredients are utilized in our entrenched cooking methods and introduce a dinner style that is healthy and yet packed with goodness and flavor."
Guests at this exclusive showdown will be afforded a Tapas dining experience on the set of Battle of The Chefs and will have the opportunity to participate in a mock experience resembling the production values of the show that will leave you yearning for the cooking series to start.  Eagerly awaiting season 3!

This unique experience at the 'Chefs Table' will allow you as guests to enter the Chefs space and watch them create their magic with a glass of fine wine in hand . Oh and indulge in the tapas culinary bliss.This food revolution continues on Saturday the 29th of April 2017 from 4pm.  See you at the showdown, appetite in hand of course.
Call, app or sms Itayi on 0777850597 or Nathalie on 0774168542 for more details.