Foodies! A new food revolution is about to arrive in style in Zimbabwe. Of course, I have all the exclusive details about this exciting new concept titled, "Secret Dinners". Secret Dinners will be presented by the FOOD n Co and Unplugged Zimbabwe. Here are some of the must know details about Harare's newest offering.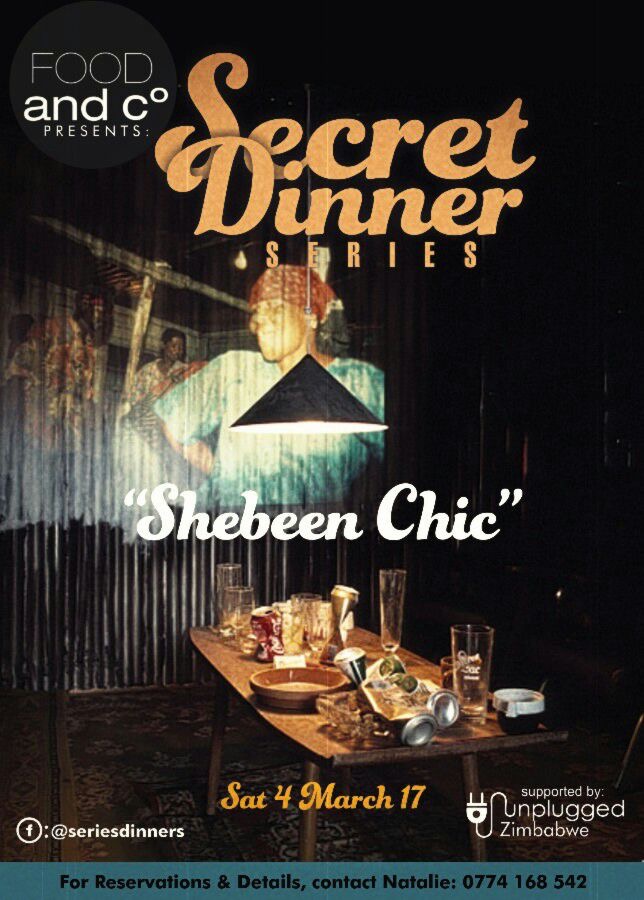 This new food concept is a result of some thorough research into the needs of  Harare's eager foodies.. Naturally event organisers  concluded that there is a cry or more so a hunger from demotivated foodies for a quality and unique offering that is above the  standard in experience  in Sunshine City.
The Secret Dinners team added, "We mooted a food revolution of sorts considering that all the much-needed inputs were available locally. We asked ourselves, do we not have young internationally trained chefs who have graced the kitchens of 'Food Network' celebrated and Michelin star studded food crafters?"
The need to enjoy local cuisine with quality chefs birthed the "Secret Dinner" concept celebrating both Zimbabwean delicious cuisine and talented musicians. Best described as "Good food meets Good Music" decorating the underground scene in Harare. For one night, every 2 months, seasoned and discerning palates will get to enjoy an evening of transformed local ingredients paired with international recipes and the undeniably gifted musicians who are disrupting the local scene.
The guest list is intimate and exclusive with only 100 spaces available.
The first offering of Secret Dinners is aptly themed 'Shebeen Chic' taking place on 4th March 2017 ( at a secret venue of course )  in commemoration of the gripping influences township culture had on social fibre of the sixties and seventies when our heroes took time to celebrate blackness amid crippling legislation and brutality.
 Not only will they be giving an ode to our fallen heroes but guests will be celebrating their tenacity and pitched spirits that gave us the right to choose in this modern era.
Excitingly enough, organisers added 'We will also draw our inspiration from the food that sustained that revolution of spirit that helped ignite a thirst for liberation and ultimately freedom. What a way to celebrate our story right?"
The special night includes a  3-course meal, meet and mingle with the  chefs  and music to dance the night . Celebrating the new breed of Zimbabwean creatives who are pushing creative boundaries.
 This is certainly a food revolution you want to be a part of. For more details on the secret dinner and secret location, Call, app or sms Natalie on 0774168542 for the big reveal.
See you Saturday foodies!