Dar es Salaam's most famous market, Kariakoo is the epiphany of an African market filled with energy and a rich cultural experience. The blazing Tanzanian temperatures add to the experience from bodas bodas, bajajs meandering the busy streets with traders from every sector completed with increasing traffic levels and determined  buyers. It is a shopping experience for the bargain lovers and curious tourist! Luckily for me, I fall into both categories. I love a good bargain and an authentic shopping experience. If luxury shops are your only interest then Kariakoo is not for you. As a woman who loves both high end  shopping and a good bargain, I was more than excited to explore Kariakoo in all its bliss. The renowned market is also famous with African cross border traders as many Zimbabwean traders would know. I had the opportunity to experience Kariakoo with my step sister, Fatu who calls Dar es Salaam home. Fatu took me on first adventure in Kariakoo which was certainly a memorable cultural experience!
The sprawling market has all types of goods in an unconventional setting spreading across the Kariakoo area. Goods on the ground, in carts, stalls, buildings it is certainly for the shopper not afraid to sweat, walk and bargain hunt. Early morning is probably best to go shopping to avoid the heat especially in summer ( which is kinda all year through for Dar es Salaam residents ) .  Being a Zimbabwean I thought I was prepared for Tanzanian heat but clearly as a Harare resident nothing would prepare me for the humidity and heat that is Dar in December. Sweat running down my face, but passion and curiosity pacing through my veins. My first adventure in Kariakoo was filled with intrigue topped with a lot body moisture. Saunas have nothing on Kariakoo!
The food stalls naturally demanded my intention from the sugar cane juice carts (freshly squeezed), coconuts, fruits and local delicacies. I wanted to try it all and coconut juice was certainly a refreshing experience but just a little too sweat for me surprisingly. I however enjoyed the sugar cane juice mixed with a pinch of ginger which locally is known as a vitamin and body boost.
Tanzania is known for its cost-efficient shopping and a variety of products from across Africa, the Middle East and Asia. Dar es Salaam's  key location on the continent makes it's a commercial hub and a shoppers dream. From hijabs, to African print fabrics, accessories , kitenges, kangas, western casual and  evening formal. There is something for every type of fashionista!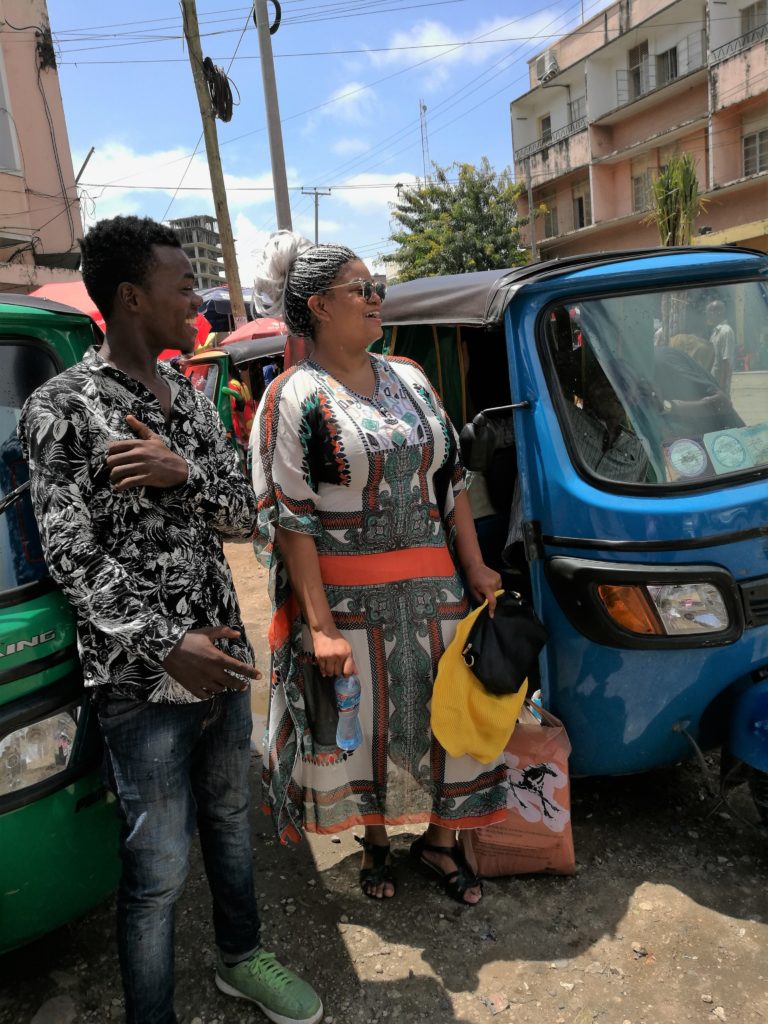 I managed to scoop myself some unique African print fabrics, a 3-piece hand bag collection, plus a summer dress and some neck pieces and earrings all under $100 USD. That's what I call a bargain! In addition, I also, managed to get Islamic head wear for both men and women as well as Arabian oud traditionally known as Attar.
Having a local translator is definitely preferred if you are not fluent in Swahili. Fatu not only saved me a few dollars but helped make the shopping experience more convenient so nothing was lost in translation. It is also advisable to go with minimal hand luggage as the crowd increases as the afternoon approaches. I had my phone on me mainly for snapping purposes of course.  I then returned to Kariakoo a few days later for some henna which is a must when in Dar especially the famous black henna which is popular in Tanzania.
Would I go back to kariakoo? Absolutely! I love bargains, especially African print fabrics, Oud, handbags and dresses both western and Islamic wear. However, I would be more comfortable returning with a local resident or when I am fluent in Swahili lol. It is a must experience for the bargain hunter and yes for the tourist not just about 5-star experiences. While I love my luxuries as you can tell,  I also can sweat a little, negotiate and enjoy a fresh coconut on the side walk in one of East Africa's largest markets (body moisture and all)! Asante Kariakoo, see you soon.
Highlights Video