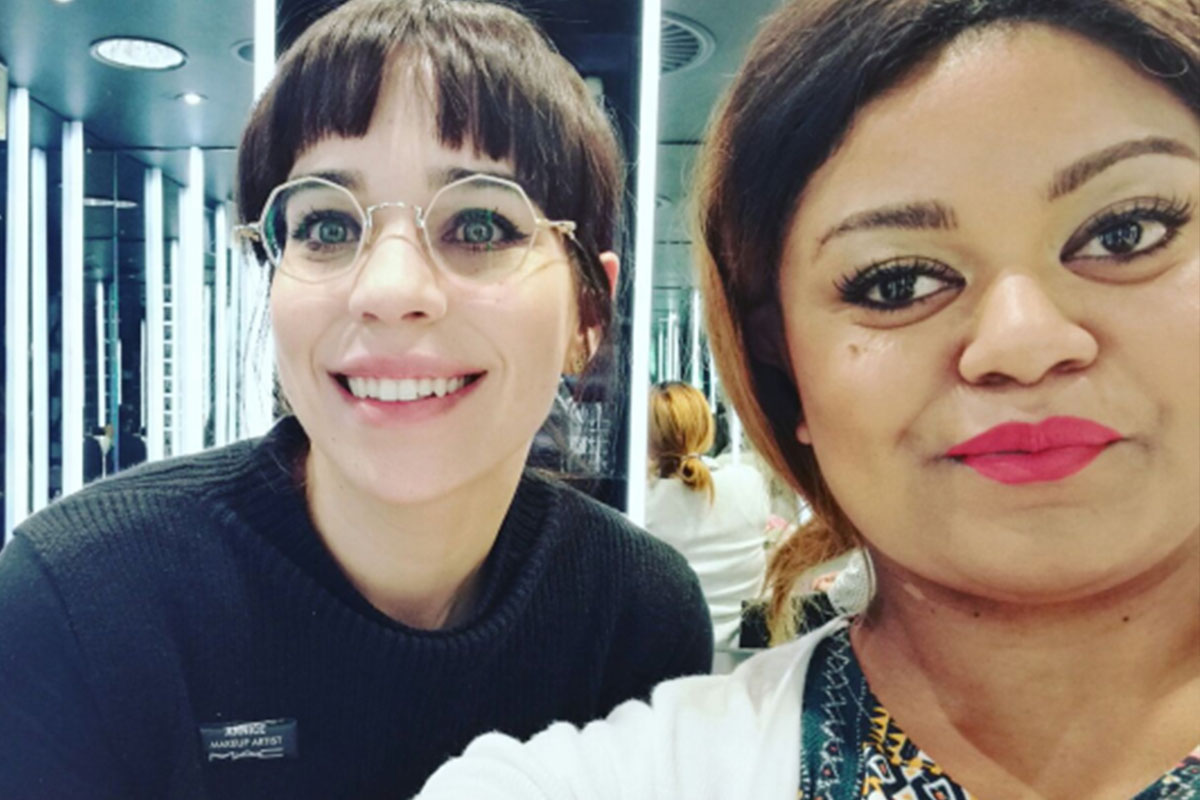 With MAC Cosmetics Sandton City Proffesional makeup artist , Annice after my spring makeover
We are sizzling back into my favourite time of year,  summer! While temperatures start to warm upwith Southern Africa's unofficial spring, it is time to update your makeup and season colours. Brights and pastels are what the season is all about from orange, peach to pinks! The season is about tasteful colour.
It is no secret, I love MAC and while here in Harare their Sam Levyy's Store is my ultimate go to makeup shop for quality and trendy makeup. So it was only natural that while on my Joburg Shopping Festival trip adventures, I would  make a stop at the MAC Cosmetics Standalone store at the popular Sandton City.
Located at one of the most metropolitan shopping destinations in South Africa , Sandton City is the perfect location for a MAC store. Surrounded by leading retail stores and restaurants.
The lovely Annice a professional makeup artist at the MAC Sandton store helped me explore a new spring /summer look but also guided me on some key essentials to have for the season especially for skin control and coverage.
For those with oily skin like myself, Annice introduced me to the amazing MAC oil control lotion which is an oil-free moisturizer that offers lightweight ideal for the season and ensuring that your skin has an amazing matte finish too.
An absolute must-have is their studio fix fluid which gives you fantastic coverage and in my case worked well for my oily skin.  The best part is that it gives you a more natural matte finish which I love
As for colours we explored the benefits and joys of mixing eye shadow colour to give you the best look. Colours like orange help with pigmentation and is also a fantastic way to explore colour with the new season.
Mac Experience Sandton City Highlights
Some that has been long overdue on my end , is trying out the  MAC eye lashes and Annice without a doubt sold me on what I have been missingout on. We opted for 7s and my what a difference , your eyes not only pop morebut the lashes are a natural  length which is ideal for everyday glamour
Rocking that MAC Retro Matte Liquid lipstick
For our lippie we went for a retro matte liquid lipstick, opting for a bright orange red which captures the vibrant season. With it being long wearing , lasting up to 8 hours,  non feathering  and non-bleeding all that are ideal for our high temperatures in summer.
I loved my stylish bright lip colour and the natural finish on my brows too. The look was fun and stylish for the season.  Summer is about adventures ,style and  exploring new colours. The Sandton store team was wonderful, Annice really got me excited for the season's new trends and I left a new fan of the 7s.  If you are in Zimbabwe,  you too can visit the Mac Store at Sam Levy's for some professional guidance on the latest trends for the new season.  A collection that will definitely be on demand is the Ariana Grande Viva Glam 2 ( yes her second collection) It is certainly  time to get  ready for a sizzling summer!
Spring style with MAC, natural but vibrant